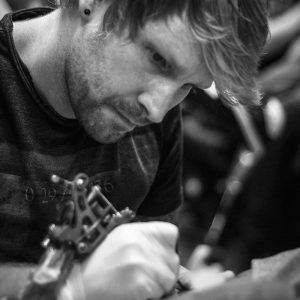 Daniel has been tattooing since 2013 and specialises in black and grey realism, and combines this with stipple work.
Hailing from South Africa, Daniel spent time training with world-renowned Dublin Ink and has since travelled the world fulfilling guest artist positions, drawing upon the knowledge of the artists around him.
He first visited Folklore Tattoo Studio as a guest artist in 2016 and we were delighted when he joined us as a permanent resident artist in spring 2017.
When he's not tattooing, Daniel is an avid photographer and is a semi-professional squash player.  He also enjoys snowboarding, surf and travel.
FOLLOWING A TRIP TO SOUTH AFRICA, DANIEL WILL BE MAKING A BRIEF RETURN TO FOLKLORE TATTOO STUDIO ON 16, 17 & 18 JANUARY 2018.  TO BOOK, CONTACT DANIEL VIA HIS INSTAGRAM ACCOUNT.